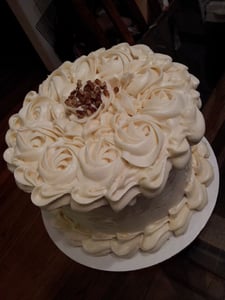 $

25.50
Prices vary. See prices in drop-down below.
Shipping only available for Cookies.
Can be ordered in 8 inch or 10 inch 2-layer cake or
1/2 and 3/4 Sheet Cake Single or Double Layer
Larger sizes available upon request. Up to 16 inch for layer cakes and up to a full-sized sheet cake.
For PHOTO CAKES, order the cake, then order the EDIBLE PHOTO IMAGE ($12) separately.
Fillings include:
Strawberry, Lemon, Pineapple,Chocolate-Cream,Raspberry, Lemon Curd, Cream Cheese, Fresh Fruit or your choice of icing flavors.
Fresh Fruit is extra.
Flavors Available:
SNICKERS Cheesecake $30.60
Double-Chocolate Cheesecake with Chocolate Ganache $30.60
Traditional Vanilla Cheesecake with Raspberry or Strawberry or Pineapple Topping $30.60
Lemon-Cheesecake with Lemon Curd $30.60
Pineapple Sheet Cake with Cream Cheese Frosting, Coconut & Nuts
Caramel
RED Velvet
ATOMIC Cake
German Chocolate
Coconut Pineapple
Coconut
Lemon Coconut
Banana Nut Cake
Carrot Cake
Carrot Cake - Extra Nuts 3.00 extra
Angel Food Cake Iced or Plain
Caramel Pound Cake
Lemon-Pound Cake
Sour Cream Chocolate-Chip Cake
Dark Chocolate-Chip Cake
Chocolate Cake
Vanilla Cake
Lemon Cake
Pineapple Upside-Down Cake
Pecan Pie
Sweet Potato Pie
PEACH COBBLER
Lemon Scones
Cranberry-Orange Scones
Lemon Lush Layered Dessert-Small with or without Nuts
Lemon Lush Layered Dessert-Large with or without Nuts
(4 Layers of goodness! Pecan crust, Cream Cheese Layer, Lemon Layer and topped with whipped topping & pecans.)
Prices range from $12.00 to $78.00
2% Tax included in prices below.